Kris Harris, DDS
---
General Dentist located in Grand Island, NE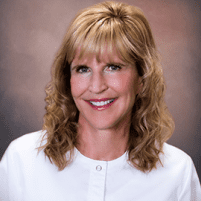 Kris Harris, DDS
General Dentist
About Dr. Harris
Kris Harris, DDS, is an experienced general dentist at Gentle Dental Care located in the heart of downtown Grand Island, Nebraska. Dr. Harris is originally from Overton, Nebraska. She graduated with a Doctorate of Dental Surgery degree from the University of Nebraska College of Dentistry in Lincoln, and she has almost three decades of experience treating dental patients of all ages who are suffering from a wide array of oral health problems.
Dr. Harris sees patients with dental decay, crooked teeth, discolored teeth, impacted wisdom teeth, gum disease, and much more. She offers crowns, bridges, root canals, dental implants, veneers, Invisalign®, teeth whitening, pediatric dentistry, oral surgery, and emergency dentistry.
Dr. Harris maintains her advanced credentials with continuing education to stay current on the latest advances in dental technology and procedures. She is board-certified and is a member of the American Dental Association, Nebraska Dental Association, and Hall County Dental Association.
Dr. Harris is also a certified premier Invisalign® provider. She is currently welcoming new patients to Gentle Dental Care.